I know, I know... that I can't sing :D But I try my best at everything else that I do! I must be doing some of those things right because I got the sweetest comment this morning and it comes with an award! I am so touched!
I love knowing that some one else out there loves what I'm doing and thinks nice things about my blog :D I was awarded this awesome award by Lynn Kasserman from
Inside this Book
. Now, when you receive this award, you get to do several things to spread the love.
1. Thank the Blogger who nominated you.
2. Include a link to their site.
3. Include the award image to your post.
4. Include the award image on your blog.
5. Give 7 random facts about yourself.
6. Nominate 15 other bloggers for the award.
7. When nominating other bloggers, include links to their sites. Let those bloggers know they have been nominated.
Now for my 7 random facts:
1. I've lived in Georgia all of my life except for one year that I spent in Peacham, VT during high school. I loved living both places.
2. I am trained to be an assessment specialist. I can't write the most awesome test questions! Of course that was way more useful in third grade than kindergarten!
3. I just got a new puppy! He's a Papillon (French for Butterfly) and his name is Copper. Isn't he adorable?
4. I long to be a runner. I was doing really great last week... lol I walked/ran for three days straight. I simply need to join a gym. If I pay for it, then I'm more likely to go.. but I can't stand giving up my account number for automatic withdrawal. I'm a pay by the month kind of girl :)
5. I love watching Disney movies with my kids. Beauty and the Beast is on right now. Yesterday we watch The Lion King... I knew pretty much all of the words!
6. I love to read! I currently am in charge of a book club with the ladies from my bible group. I love discovering new books to read! Right now I have
Midnight in the Garden of Good and Evil
and the 2nd and 3rd Hunger Games' books.
7. I used to think that my dream job in teaching was being a Literacy Coach.. until I started teaching Kindergarten. I L-O-V-E it so much! I sometimes play with the idea that I'd like to teach high school Literature.
Now for the really fun part... my nominees! Here are the teachers that I absolutely love to read!
I love Little Priorities! She is so real and down to Earth. She has a ton of wonderful ideas that she shares!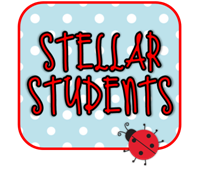 Stellar Students is an excellent third grade blog! She mixes it up with including posts about her awesome family. I love to see what she makes on her Made it on Monday posts. Definitely check out the adorable birthday frame that she made!
Little Miss Glamour Goes To Kindergarten is an awesome blog to read. While I don't know if I could teach in stillettos, I love everything else that she does!
Michaele was one of my first teacher blogs that I ever followed and she does not disappoint! Her content is amazing and inspirational!
Wow, Teaching My 3 makes me "almost" want to home school my kiddos. She is AH-mazing! She also does fantastic graphics and images that a lot of us use in our digital documents on TPT.
I know that this isn't 15 blogs but it's hard to find 15 blogs without this amazing award. Please make sure to check out these awesome blogs that I follow and leave them some love!!