Talk about a whirl wind week! Wow! I got to my PL early today and sat in my car for a bit reading Chapter 3 of Debbie Diller's book. I love it!
The classroom library, in my opinion, is one of the most important parts of a classroom. It's the place where your students can have their own journeys (beginning or continuing them) with their love of learning. My third grade library had hundreds of books... and I mean hundreds. I had everything labeled and sorted by level, genre, author, etc.... I totally went Beth Newingham on my library!
When I moved to Kindergarten, I asked our Literacy Coach if she would help me set up my library (because I really didn't know what I was doing lol!). I have a much better concept of what I need and don't need now. So... this summer I plan on creating a brand new set up. This is what it looked like this year:
It was squished. The labels were on the inside. I didn't have enough room or another book shelf. My complaints kind of go on and on about this whole set up.
I do love this center though.
This year, students
-traded out books and then read to self
Next year, students
-read any and all books in the library
-share with their partner
-discuss their responses verbally
-explore new genres and new authors (author studies!!!)
- respond on paper and put in reading notebook (eventually!)
Man do I have plans for this center! I am going to get rid of this small book case and purchase my own like this: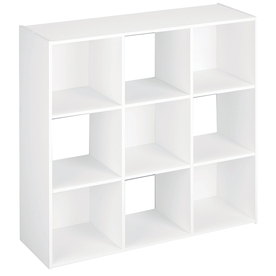 I'll have cute color matching buckets to go in all 9 cubbies. I'm hoping this will help to limit the "cluttered" look while allowing me to have a better looking library. I'm going to keep the small boxes with the leveled readers up on top. But the other 9 will be genres/ topics (non fiction, picture books, math, beginning readers/chapter books, etc.).
I'm also going to have a rug down that will hopefully "maintain the area boundaries" for my kiddos.
What's your favorite thing about your library?
What's your LEAST favorite thing?
What are you going to change?
I'd love for you to leave a comment and let me know!