Our summer book study has been going AH-MAZING! I really, really hope that ya'll have been enjoying it as much as I have been. Each week has been such a great learning experience. I love reading everyone else's posts and their learning. I thought you guys might want to see what the most popular post was from each week so far!
Week 1: The Daily Alphabet's '
Talking Writing Drawing Chapter 1: Talking

href="http://dailyalphabet.blogspot.com">

height="150" border="0">

Week 2: My very own post on Chapter 2:
Writing and Drawing book
. It even comes with a freebie!
Week 3: Chapter 3 on 'Drawing' from Love Those Kinders!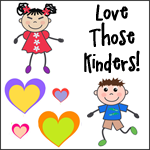 She offered up this adorable freebie too!
Week 4: Mrs. I's Class was the winner for Week 4's '
The Craft of Drawing
'
I loved her thoughts on getting kids drawing!
Don't forget to check out
this week's
great link ups! This week was all about Chapter 5: Writing Words. Loved it!!