Seriously though, how did it get to be August all ready?
I love linking up with Farley over at Oh'Boy 4th Grade. The currently linky has gotten HUGE! There are almost 400 people who link up each month! Crazy!!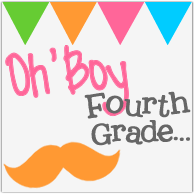 Anyways, our weekend has been going really well but I'm a bit nervous about tomorrow... MEET THE TEACHER!!! At least I have my awesome new dress that I shared at the end of June:
It's what I'll be wearing tomorrow. It's so cute and comfy. Plus it's "fun" while being respectable too. I'm also really, really excited about meeting the parents tomorrow!
I promise more pictures tomorrow after I meet all my great parents and kiddos!