I just finished my first post for the Playful Learning book study. I am so excited about it! It will be published on Friday over at Teaching My 3.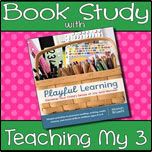 I talked about Chapter 4: Scientific Investigations. Mariah Bruehl has several great ideas at the end of the chapter for having your students or children investigate the world around them a bit. One of her excellent ideas is to have the students observe a seed grow. This is something I did in my classroom and I thought that I'd share my observation forms with everyone. Enjoy!


If you download this, I would really appreciate it if you left feedback on my page. Thank you!!